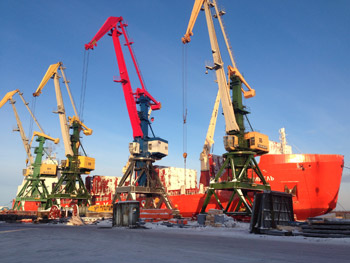 "Polar-Trans" LLC provides all-year shipment services from vendor location (Russian Federation Territory, FSU and beyond) to Norilsk. We are ready to shipped all freight types to Norilsk consignee's or client's warehouses.
We are ready to take to carriage utilized cargo, and ISO containers (twenty – foot, forty-foot containers).
For containers' shipment purposes we provide empty containers, spotted to vendor location for the stuffing and the next-following carriage to consignee's warehouse, without mid-transloading under one whole identification seal.
We provide regular carriage services of utilized cargo and containers from Moscow, Saint-Petersburg, Yaroslavl, Vologda to Dudinka and Norilsk and return.
Commanding our services of cargo carriage on "Door-to-Door" conditions, you obtain benefits from:
Fixed rates for full transportation pool without additional expenditures forthcoming
Guarantee of the safety of freight, removing additional mid-transloading points and getting the only responsible party in all transportation stages
Clear delivery terms and conditions
The constant cargo tracking under terms and conditions compliance
Our full assistance in solution to questions, concerning your cargo delivery to Norilsk and return
By your request we conduct operations for cargo repacking, modalism according the maritime laws and requirements of safety transportation.
Call for our services anytime and our professional staff provide you all information about optimal cargo pattern and transportation route to Norilsk.
| | |
| --- | --- |
| | Contact an employee commercial department 8 800 100 87 64 |
Send request