Shipment en-route Arkhangelsk – Dudinka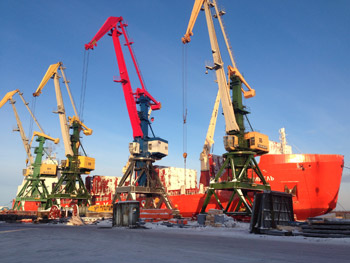 Sea shipping ex seaboard Arkhangelsk – Dudinka requires the high attention in work preparation and big experience in transportation business. Our experts will develop the transportation chart comprehensive and with all details, try to establish the cheapest way to deliver your cargo.
For freight forwarding all cargo types are excepted, including:
Over-size cargo and heavy-lift equipment
Containerized and general cargoes
All equipment types and its component parts
Structural steel and construction supplies
Automobiles
Polar Trans LLC suggests all range of the services for cargo delivering preparation and further transportation operations:
Cargo delivering to the port Arkhangelsk from all other the world and it's transportation to Dudinka.
Cargo reception, consignment storage, confirming paper work
Cargo packing according 4M maritime rules
Cargo loading, handling and cargo securing,
Maritime transportation,
Discharging ops in Dudinka and safekeeping.
Polar Trans LLC owns the big container pool, which we can offer for our clients lease.
Step by step instructions shipment Dudinka
Send request